Contact Us In The Partner With Us >> About Us Section!

Save On Costco Prescription Prices With RxYouSave Costco Pharmacy Coupons!
It's a known fact:  Costco Prescription Prices, along with all other prescription prices in the US, are in a constant state of fluctuation.  One day your medicines cost this amount, and the next day you find that your medication has risen tenfold.  To make matters worse, prescription prices vary from pharmacy to pharmacy.  Yes this also includes chain pharmacies.  You can have two different Costco Pharmacies give two different prices on the same medication.  And what's worse, is these pharmacies are often just right across the street from one another.  Where can you turn to when it comes to getting the best price on your prescriptions?

This is where RxYouSave comes in.  Our Costco Pharmacy Coupons help you save more money when you check on Costco Prescription Prices. You can use the RxYouSave Prescription Discount Card the following are ways if Your insurance has no drug coverage, You have to meet a high deductible and if You are in the Medicare Part D "doughnut hole".  RxYouSave's Costco Pharmacy Coupons are free for anyone who resides in the USA.  When you use the card, you can expect to save up to 85% off the entire cost of your prescription medication.  Each card can handle unlimited medications, and there are no lifetime limitations. 

There are no claim forms to file, no age and no age or income restrictions.  We also like to be completely transparent in what we offer you.  This is why we offer a free drug price lookup tool for you to search for your medications.  We do this because we want you to get an idea of what kind of price you can expect to pay.  RxYouSave's Mission Is To Help People Afford Their Medications, Thus Helping To Increase Patient Compliance With Doctor Prescribed Medications.  We Here At RxYouSave Believe That No Person Should Have To Decide Among Paying Bills, Putting Food On The Table Or Paying For Their Prescriptions.

Check Costco Prescription Prices And
Print Your Costco Pharmacy Coupons With RxYouSave
We here at RxYouSave do not want to be lumped together or even remotely associated with with those seedy prescription discount card companies out there.  This is the way that we prove that we are not associated with them. This is one of the main reasons that we have gone the extra mile as far as building trust is concerned.  You can trust RxYouSave and I will tell you why. We have Better Business Bureau Accreditation of "A".  We believe in BBB Accreditation because consumers trust what the BBB says.  However, Just having BBB Accreditation alone is often not enough.  Sure, it starts and builds trust, but you need a little something extra to physically back it up.  This is why we have the HIPAA Verification Seal.  We have this In Addition To our BBB Accreditation.  The reason for this is that we figured this would have both consumers and businesses to trust us more.  The RxYouSave Card is already HIPAA Compliant to begin with.  We just believe in over-delivering on Quality by going the extra mile.

Below you will find our Costco Prescription Prices Tool, along with two cards that are already activated that you can download and print.  One card is in English and the other card is in Spanish.  And remember--The RxYouSave Card is accepted at over 60,000 Pharmacies NATIONWIDE!  Start Saving Money NOW!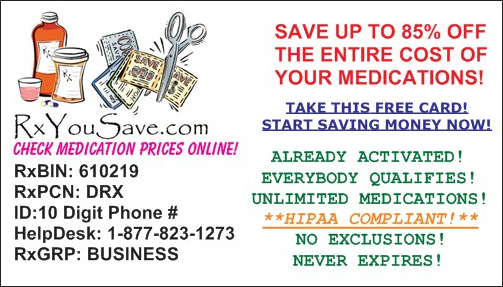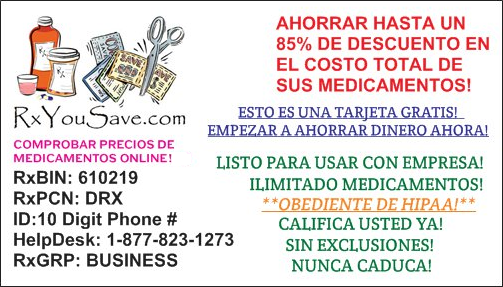 Click Here To Go To The Top Of The Page